Professional English - Chinese translator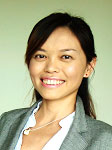 Ellen Shi Min
Director and Founder
Specializing in English - Chinese pair technical translation, Ellen brings over 10 years of hands on technical translation experience.
Her expertise has helped companies from starts-ups to established multinationals determined to translate their marketing materials and localize their products to move the organization to the next stage of growth in the Chinese markets.
Ellen has extensive knowledge in technical translation, with special emphasis on manufacturing, electrical, semi-conductor industry and infrastructure software.
She served as the Operation consultant for Chinese markets at SparkGroup. She had also worked as technical translator at Silvaco Singapore, prior to which she had a successful research practice in Reverse Engineering and Data Mining in Design Technology Institute and National University of Singapore.
Ellen holds a bachelor of engineering from Shanghai Jiao Tong University, and Master of Engineering from National University of Singapore.
She is a certified life coach and a member of Toastmaster too.